---
A typical Japanese style restaurant is not something special and exotic.
Although reservation is required, you can enjoy its superb service in the same manner you enjoy the services of ordinary restaurants.
For those who are hesitant about trying a high-class Japanese-style restaurant we have summarized the ways to take advantage of its superb atmosphere, service and excellent cuisine.
Why don't you entertain yourself, your family or important guests with Japanese cuisine under the tranquil atmosphere of 'Tanakaya' once in a while? You are always most welcomed!
---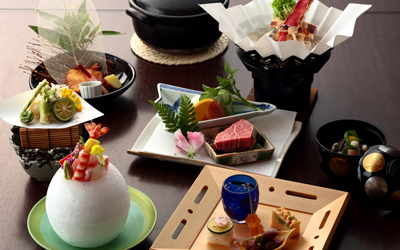 Let us know of the date/time, number of guests, budget, preferred cuisine, and the necessity of parking lot until the day before your reservation date. (By reservation only) We will have a private room readied by group.
We will send you a map via fax or mail in case you need one.
If you are coming by taxi from Yokohama Station, just tell the driver "Tanakaya at Daimachi".
Drinks and beverage are charged separately. We can roughly inform you of the type of cuisine we serve on the day but because we stock fresh foodstuffs everyday, we might have to change the menu depending on the availability of materials on the day of your reservation.
If you have any other requests such as calling in cocktail hostesses, setting up budgetary limitation, ordering particular drinks, specifying food you like or you don't like, and preparation of take-home souvenir and others, please feel free to inform us.
We shall try to comply with your requests as far as possible.
---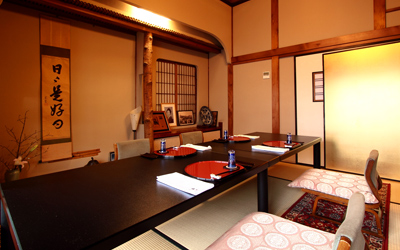 When you arrive we will usher you to your private room.
Since we will have your room readied 30 minutes ahead of your reservation, you need not to wait even if you arrive early.
Kindly inform us in advance when you are planning a meeting or if you wish us to delay sending in your meal.
Since the meal will be served in private rooms we have no dress code.
Please dress casually.
Tips are included in the service charge. You need not tip attendants separately.
---
We serve dishes in turn. Please enjoy your meal from the first dish.
Room attendant will come by your room from time to time to take additional orders, if any.
---
There is no need to leave the room right after your meal.
Please feel at home and relax in your room. There is an ample leeway until the next guests' reservation.
Order your taxi through the room attendant, if you need one. Please settle your bill in your room while you are enjoying desserts.
Payment: Cash or we honor VISA, MASTER, JCB, DC, AMEX or GINREN cards. Please inform the room attendant when you are ready to leave.

---

11-1 Daimachi, Kanagawa-ku, Yokohama, Kanagawa, JAPAN 221-0834
TEL:045-311-2621
FAX:045-311-2623
Email:ask@tanakaya1863.co.jp
---
View Larger Map
---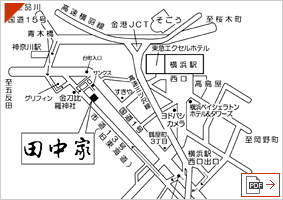 If you are coming via Route 15, cross Aoki Bridge, go straight at the crossroad of Route 1 and follow the road until you hit City Road 13 (The old Tokaido).
Turn left and as you follow City Road 13 for a while, you can spot our restaurant on your left.
If you are coming via the Mitsuzawa Speedway, get off the speedway at the exit ramp for Yokohama Station West Exit and turn right in the direction of Route 1.
Soon after, you will come to a T-shaped junction of Route 1 where you turn right and you will come to a traffic signal named "Entrance to West Exit Ramp".
Turn left there and turn right at the first crossing that will take you to City Road 13.
Follow the road for a while and you will spot our restaurant on your right.
---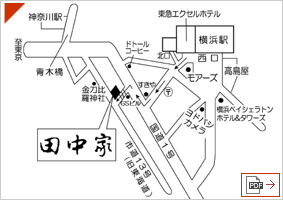 Our restaurant is about seven-minute walk from the West Exit of JR Yokohama Station.
Take the road between OKADAYA MORE'S and Tokyu Excel Hotel and walk straight ahead until you come to the T-shaped intersection on Route 1.
Get Cross Route 1 and turn right. Walk along Route 1 for a brief while until you see Toyota Rental & Leasing building ahead of you on your left.
Turn left and take the alley way right before the building.
There is a long stone stairway ahead of you. Climb it and our restaurant is on your right.
---

---
History of Kanagawa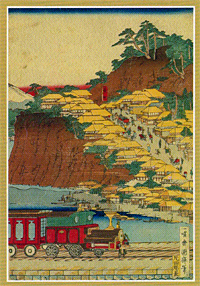 According to an antiquarian book, Kanagawa was named after a river called "Kaminagawa" that fell into the Tokyo Bay. Others believe that a long time ago there was a river named "Kanagawa" and Minamoto no Yoritomo (the first samurai Shogun) assigned kanji characters close to the ones used today.
During the Warring State Period, Kanagawa flourished as a port. When the Tokugawa Shogunate was established at Edo (today's Tokyo), Kanagawa, together with Hodogaya and Totsuka, became one of the famous stages of the 53 Stages of the Tokaido. Kanagawa Station flourished as one of the important post stations serving the heavy traffic of travelers on the Tokaido, an important road that connected Edo and Kyoto at that time
Since travelers went down a slope and entered Kanagawa station from a hill top called Dainosaka, respective daimyos' processions traveling on the mandatory alternate-year attendance went down the slope at a trot and it looked as if the processions were dancing down the slope.
The view of Kanagawa Station is depicted in Hiroshige Ando's colored woodblock print and the ennui of travelers is described in the famous "Tokaidochu Hizakurige (Traveling the Tokaido on Foot" written by Juppensha Ikku. Source: <'Tanakaya' Memoirs>
---
History of 'Tanakaya'
You will walk into 'Daimachi' if you get off the train at the Keihin Kyuko Line's Kanagawa Station and walk across Aoki Bridge.
This area is the old Kanagawa post station but today the area is congested with heavy inbound and outbound traffic between Yokohama and Tokyo.
The old Tokaido wound right and went all the way to Hodogaya via Asama Shrine.
It is just an ordinary ascent with small stores and factories and the Japanese style restaurant 'Tanakaya' is on the left of the ascent since the Edo period.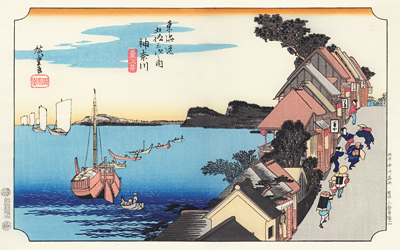 'Tanakaya' was established in 1863. During the early Edo period, the precursor of 'Tanakaya' was a small tea stall called 'Sakuraya'.
This small tea stall is depicted in Hiroshige Ando's "53 Stages of the Tokaido" and was also referred to as 'Gonpachi Tea Stall' that served boiled rice and barley topped by grated yam soup.
Thereafter, 'Sakuraya' was renamed 'Shimodaya' managed by Kauemon Takashima and the store was purchased by Yohei Hiruma and was renamed as 'Tanakaya' and remodeled it into inn & restaurant.
Source<The Kanagawa Noren Story: Written by Takeshi Tajima> 
---
---