We have accumulated a wealth of tradition over 150 years in this area of Yokohama.
---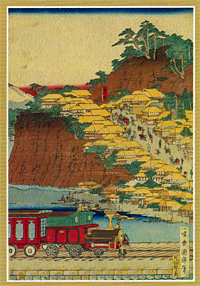 The area where Tanakaya is located has long been called Kanagawa Daimachi and has been widely known for its picturesque seaside.
During the Edo Period, Kanagawa flourished as "Kanagawajuku," one of the post towns of the Tokaido Go Jyu San Tsugi, which were 53 towns on the Tokaido, a highway connecting Edo and Kyoto. Nihonbashi in present day Tokyo was the starting point, and starting at Nihonbashi, Kanagawajuku was the third post town following Shinagawa and Kawasaki.
Kanagawajuku's atmosphere at the time was also depicted in Tokaidochu Hizakurige, a comic novel about two travelers penned by Jippensha Ikku, a prolific writer during the late Edo Period. Day or night, Kanagawajuku was a lively, bustling town with people coming and going through the Tokaido highway.
---

Tanakaya's beginnings can be seen in Ukiyo-e, traditional woodblock prints featuring "pictures of the floating world."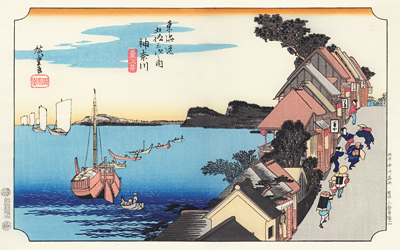 There were many tea houses with benches outside lining the hilly roads of Daimachi, offering excellent views of the sea. These teahouses were depicted in the "Kanagawa Dai no Kei" woodblock print of Ando Hiroshige's Tokaido Go Jyu San Tsugi series of woodblock prints. If you look closely at the print, you will see a storefront sign saying "Sakuraya" on the third shop from the top of the hill. This shop is Tanakaya's previous incarnation.
At the end of the Edo Period in 1863, the first proprietor of Tanakaya bought Sakuraya and established Tanakaya. A few years prior to this, Yokohama Port was opened in 1859, and consulates of various countries were installed in the area one after the other. Many foreigners also started trading companies, and Yokohama and its surrounding area developed into an international city.
---

Overcoming a century and a half's worth of challenges
About 150 years have passed from the time of our first proprietor Yahee Hiruma until Akemi Hiratsuka, the fifth proprietress today. We have gone through the Great Kanto Earthquake of 1923, the air raids on Yokohama and other difficult challenges but through them all, we have been patronized by a wide range of customers, allowing us to continue serving many people until the present. Out of the 1300 establishments in Kanagawashuku, we are the only ryotei that continues to this day.
Many prominent people have dined with us. They include Townsend Harris, the first American Consul General to Japan and Ito Hitobumi, an elder statesman who played a key role in modernizing Japan. Tanakaya was also the place where Saigo Takamori and Takasugi Shinsaku planned to overthrow the shogunate and restore imperial rule. We also have various commemorative articles such as famed writer Natsume Soseki's books on display.
---

Oryo, wife of prominent samurai Sakamoto Ryoma once worked with us and was popular with customers.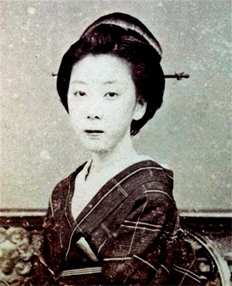 After renowned samurai Sakamoto Ryoma who played a key role in overthrowing the Tokugawa shogunate passed away, his wife Oryo came to live in Tanakaya and became one of our attendants.
She played the gekkin, a four-stringed guitar, was fluent in foreign languages and her outgoing, straightforward nature made her popular with foreign customers. She remarried and moved to Yokosuka, and even after leaving Tanakaya, she remained a favorite and customers continued to talk about her.
A love letter addressed to her and penned by her first husband Ryoma still remains in Tanakaya.
---


Oryo Watches Over this Long-standing Ryotei
The previous incarnation of Tanakaya is depicted in Ando Hiroshige's woodblock print. Located beyond National Highway 1 and Yokohama Station, Tanakaya is about one kilometer from the sea. While land reclamation continues today, the area used to have a superb view perfect for sightseeing, and it is said that fishing lines were hung from balustrades in those days. Elder statesmen such as Ito Hirobumi and literary masters such as Natsume Soseki have lodged in Tanakaya. Matches of Go Seigen, the greatest player in world of Japanese Go were held in Tanakaya, and he is just one of the many prominent people who have loved this ryotei…Among the good people of Tanakaya, Oryo, the wife of Sakamoto Ryoma who was a patriot during the last days of the Tokugawa Shogunate has recently been in the limelight. Through the introduction of statesman Katsu Kaishu, Oryo worked at Tanakaya for 2-3 years during her 30s. With a strong character, she would go in front of everybody during group pictures, and was favored by many customers. Inside Tanakaya, a letter written by Ryoma to "Cherished and Yearned for Oryo" is on display.
/Excerpted from Asahi Shimbun (Newspaper), December 10, 2010
---

A Tour into a Ryotei Beloved by Patriots of the Last Days of the Tokugawa Shogunate and Prominent Figures of the Meiji Period.
Akemi Hiratsuka, the fifth proprietress speaks. "Townsend Harris, the Consul General of the American Consulate opposite us dined with us frequently."
Tanakaya was established in 1863. Because it was close to an open port, it was patronized by the likes of samurai Takasugi Shinsaku of the Choshu Domain, elder statesman Ito Hirobumi, and anecdotes such as Saigo Takamori and others planning the overthrow of the shogunate here in Tanakaya remain.
/Excerpted from Sunday Mainichi (Magazine), May 9, 2010
---
Many things have happened during the 150-year history of Tanakaya. A detailed history of Tanakaya can be found in the book "Tanakaya by the seashore: An account of struggle by a long-standing ryotei that has been revived," published by the Publishing Department of the Kanagawa Shimbun Company.
In addition, its history is also written in the memoirs of Tanakaya's third proprietor, Tominaga Hiruma.
---
11-1 Daimachi Kanagawa-ku
Yokohama-shi Kanagawa-ken
221-0834 JAPAN
TEL:045-311-2621
FAX:045-311-2623
11-1 Daimachi Kanagawa-ku
Yokohama-shi Kanagawa-ken
221-0834 JAPAN
TEL:045-311-2621
FAX:045-311-2623
---